What's the course about? Watch the video and find out...
What will you learn?
You will be able to pick up any chord sheet, play along and sound great.
By using the techniques in the course, you'll be able to sound like an advanced piano player without reading any musical notes at all.
Learn about Major, Minor, Slash, 7, 9, Suspended, Add, Diminished, Augmented Chords and much more.
Singers will be able to accompany themselves, and learn how to transpose a song into different keys to suit their vocal range.
You'll learn a wide variety of rhythms, playing techniques and patterns that can be applied to chords.
Learn popular songs by Adele, The Beatles, Coldplay, The Commodores, Josh Groban, Alicia Keys, The Greatest Showman and many more.
Have fun creating your own music with the BONUS improvisation section.
Who is this course for?
Complete beginners, or anyone wanting to expand their current knowledge on chords and following chord sheets.
Anyone wanting to enjoy playing this beautiful instrument without having to spend years learning to read sheet music first.
Singers wanting to be able to accompany themselves on the piano.
Anyone wanting to be able to play rhythm piano/keyboard in a band.
Singer songwriters wanting to understand more about chords.
Anyone wanting to be able to accompany singers on the piano.
The Ultimate Piano Chord Course will give you the skills to be able to play thousands of songs.
Most songs are written using chords, so if you understand how to use them properly, you'll be able to play a vast amount of songs by just reading simple chord symbols. You don't need to be able to read music notation in order to play great songs!
This course is for beginners on the Piano, and so starts with the basics, but quickly moves onto learning about the different kinds of chords and how they are constructed, gradually getting more and more advanced as you progress. You don't just learn about chords though. Along the way you will learn about different kinds of rhythms, playing patterns and techniques that can be applied to the chords. By the end you'll be able to play the piano by reading a chord sheet, but sound like a pro!
I believe the best way to learn is by applying your new found knowledge, and so throughout the course you will learn famous songs or chord progressions on the Piano, relevant to the particular chord/rhythm or playing pattern you've just been learning. The course uses examples from songs by a wide variety of artists such as Adele, Sam Smith, The Commodores, Christina Perri, John Legend and Don McLean to name a few.
If you're a singer, by the end of this course you'll be able to pick up and play any piece of music or chord sheet and play piano by following the chord symbols. All you need to do is sing along. I even show you how to print off any song of your choice online for free, as well as showing you how to change the key so it suits your vocal range.
The same goes with anyone wanting to accompany other singers on piano, or people wanting to play Keyboard in a band. This course will give you the skills and understanding to be able to play Piano along with other people.
If you're a songwriter, you'll find that your understanding of chords and playing techniques will be so much greater, and so you'll be able to use what you've learnt to write songs with much more variety and musicianship and freedom.
Even if you just want to enjoy playing the Piano/Keyboard for yourself at home, by the end you'll be able to play a selection of famous songs, and have the skills and ability to print off your own favourite songs and play them by just following the piano chord symbols.
Supporting PDF's
The course includes PDF's of important chord building info and playing techniques that you can print off and set on your piano/keyboard, which will make it easy to refer to when you start choosing and learning your own favourite songs.
So enroll today, and learn piano the easy way!
NEW UPDATE - This course also includes a BONUS SECTION on improvisation. Throughout the 30 additional lessons you will learn how you can use your new knowledge of chords to get started improvising with help from a variety of techniques, rhythmic patterns and progressions along the way. You will also get the chance to explore melodies with the use of scales and harmony. By the end of this extra "mini-course" you will have the tools to be able to have fun improvising your own music on the piano!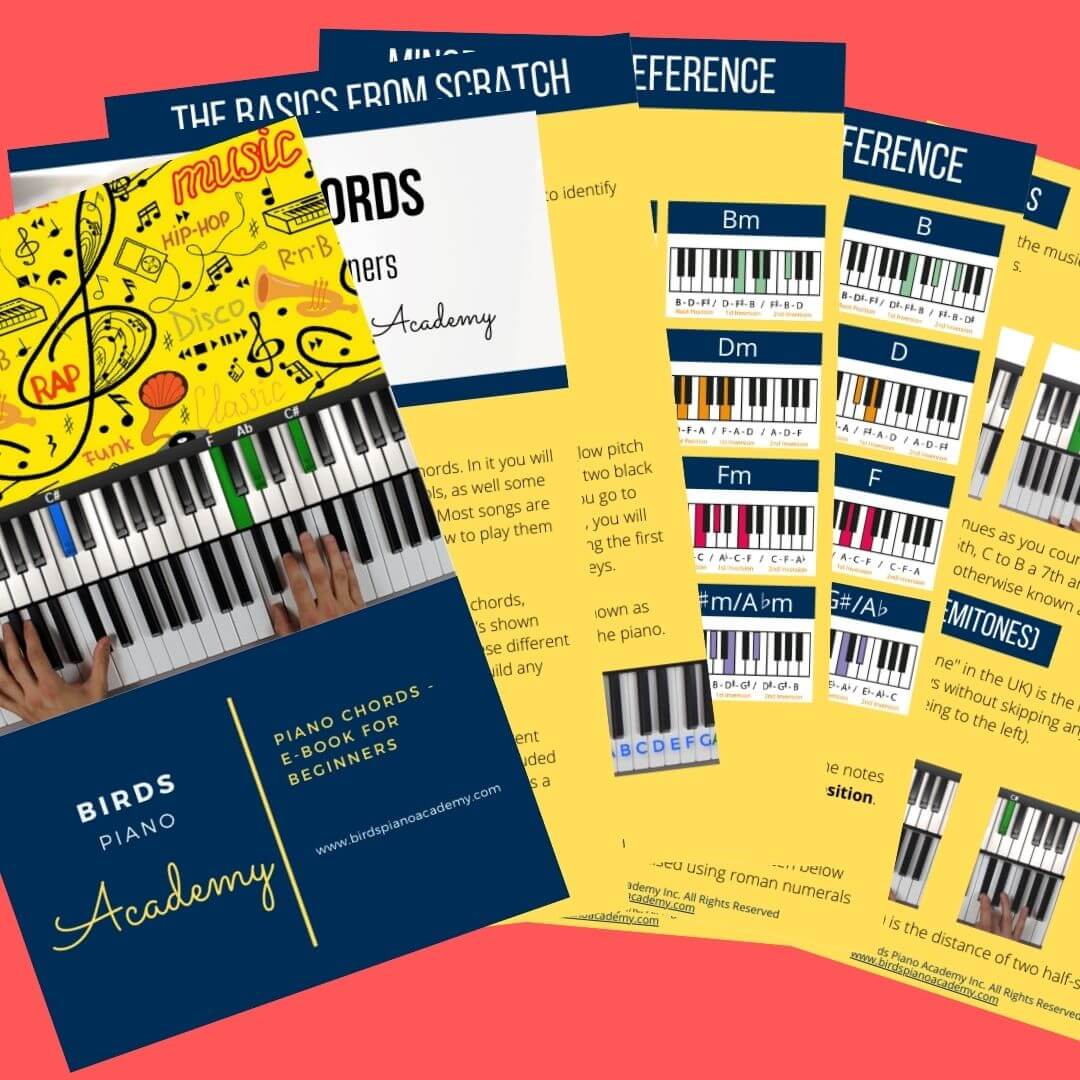 Including "The Piano Chords eBook for Beginners"
The course also includes an eBook download. This handy guide has 25 pages packed with information on chords, as well as illustrated chord reference charts that serve as a quick and easy reference for anyone wanting to learn about piano chords.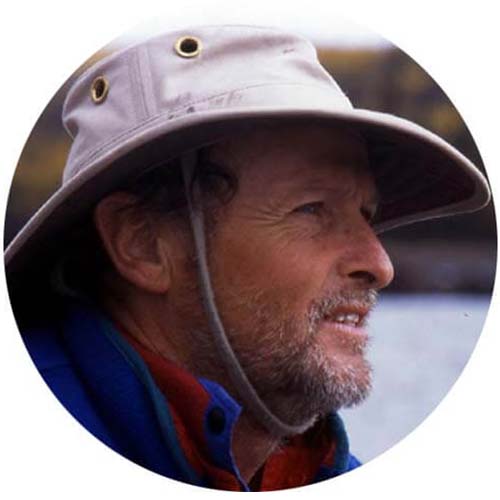 Tony S
What I like about Arthurs Birds course is the way he presents something really motivating in the songs chosen to teach specific skills. This is the third course I have taken of his and the explanations are so very clear and he allows for a lot of demos and practice time.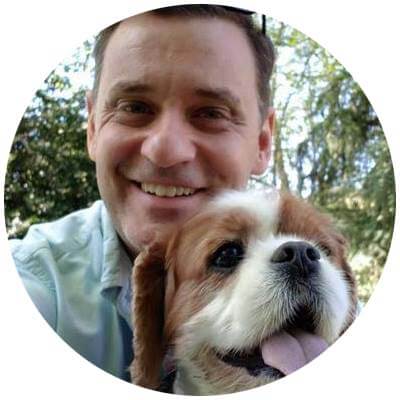 Fernando N
Amazing. I've been looking for something like this for a long time after trying a few methods and courses here and there, but nothing was as good as this. After a few lessons I can already identify quite a few chords, thanks to Arthur's very clear explanations. The songs are great practice and I'm already playing a few of them (and singing very badly...). Thanks, Arthur! I'm extremely really happy I've come across your course!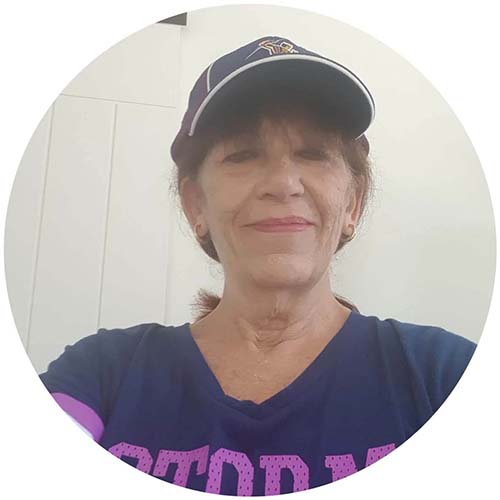 Suzanne O
This instructor is brilliant, everything explained in a fashion that is easy to understand. I am loving this course and so will you.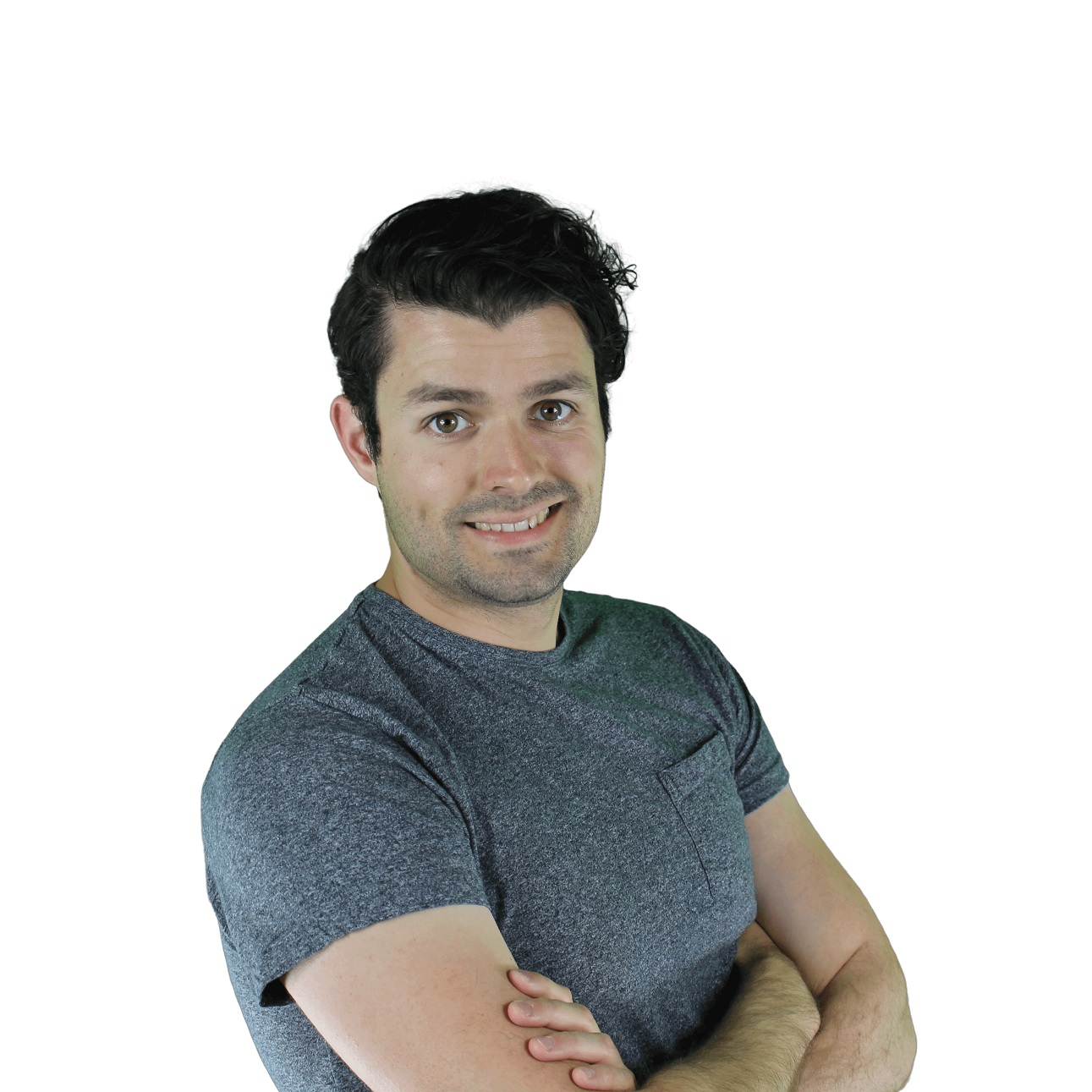 Meet Your Instructor
Hi I'm Arthur, the creator of Birds Piano Academy. Want to know more about who you'll be learning from? Well read on.
I've been playing the piano now for over 20 years, and after achieving Grade 8 with the Associated Board of the Royal Schools of Music I started touring as a session player in theatre shows all over the United Kingdom. I perfomed as a session player for many years. If you can think of a venue, I've probably played there. As well as this I have lots of experience in recording studios, and with bands have played music all over the world, around Europe and from the USA to Australia. I've been teaching Piano for 10 years, and am an approved tutor with the City of York Arts Council.​
I really enjoy teaching piano in ways that make it engaging and fun, and love creating online courses to help people like yourself be the best piano player that you can possibly be!
Or sign up to our monthly subscription and get access to all courses on Birds Piano Academy:
Frequently Asked Questions
How long do I have access to the courses?
Monthly subscribers have access for as long as they are subscribed. You can cancel anytime. If you purchase a lifetime access course, you get unlimited access for as long as you like.
Can I watch the courses on my tablet?
Yes, the courses are compatible across all devices.
What if I am unhappy with the course?
If for whatever reason you think the course you have purchased isn't right for you, contact us within the first 30 days of purchasing and we will give you a full refund.
Who can I speak to if I have a problem?
Please reach out to us at anytime via email at [email protected] and we will get back to you as soon as possible.
Check out some more reviews from other happy students: